Men and women can feel healthy, vibrant and sexy at any age. Regain your healthy balance with bio-identical hormone replacement therapy.
Introducing Biote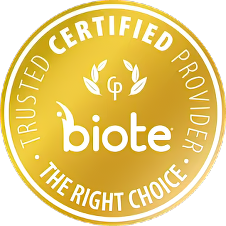 BNG Aesthetics is a Biote Certified Provider in Williamsport, Pennsylvania.
Biote is the nation's largest hormone optimization company and has been in business for over 12 years.
Biote has translated more than 80 years of scientific insight into the foundation of the Biote Method, which identifies and aims to help with the earliest signs of aging.
We at BNG Aesthetics have chosen to partner with Biote because we believe our patients deserve the best - Biote is one of the only hormone optimization companies actively contributing to furthering the science behind hormone optimization.
We work with each of our patients on an ongoing basis to analyze their symptoms and lab results using customized dosing to develop a unique, personalized treatment plan for each patient.
What is pellet therapy?
Hormones decline naturally as we age. Optimizing your hormones can help regain your quality of life. Biologically identical to estradiol and testosterone found in men and women, pellet therapy is used to mimic the actions of healthy ovaries and testicles. They release hormones into the bloodstream WITHOUT the side effects experienced with synthetic hormones.
Who can be treated?
While some people might think that hormone replacement therapy is an age based treatment, younger men and women are experiencing unexplainable fatigue, decline in mental clarity, and even a decrease in libido. Pellet therapy has been clinically shown to be effective against a variety of symptoms in men and women. Any one experiencing lack of energy, reduced mental focus, difficulty sleeping at night, reduced sexual desire and performance and simply not feeling themselves any longer, could be a candidate for bio-identical hormone replacement therapy.
When will I feel better?
You may begin to feel a difference within a matter of weeks, especially when it comes to sleep patterns and energy levels. Some results might take up to three consecutive treatments, however each patient experiences different results. Remember, it took time for you to lose balance of your hormones, so it will take your body time to recover.
Will insurance cover this treatment?
BNG Aesthetics does not accept any form of insurance. Many of the formulations we use in our therapies are not covered by insurance, and the cost of overall treatment is often less than when using insurance. On a case by case basis, some insurance companies do reimburse for Hormone Replacement Therapy and Testosterone Replacement Therapy. It is each patient's responsibility to contact their own insurance company to confirm reimbursement. BNG Aesthetics Skin & Laser Center will not contact your insurance company nor will take any responsibility for any additional forms your insurance requires.
Where Can I Find Out More?
Call us today at (570) 354-0420 to set up an appointment and start your journey to start feeling healthy, vibrant and sexy again!
---
OUR LOCATION