What is HydraFacial MD®?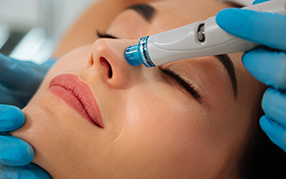 HydraFacial MD® is an award-winning facial treatment system that combines cutting-edge spa treatments with innovative skin resurfacing technology. This highly advanced, non-surgical treatment dramatically improves your skin health, and revitalizes your youthful radiance.
Blending deep exfoliation, a cleansing facial skin peel, and patented ZO® Skin Health BrightAlive® Booster Serum, this groundbreaking technique enhances your skin's health and appearance. HydraFacial MD® is carefully engineered for maximum results with little or no downtime and minimal risk of side effects.
BNG Aesthetics is proud to offer our patients the most advanced cosmetic skincare procedures available. To learn how HydraFacial MD® facial treatment can restore your skin's youthful brilliance, contact us online or call (570) 354-0420 today!
Why HydraFacial MD®?
HydraFacial MD® is one of today's top skin therapies for treating fine lines, wrinkles, discoloration, hyperpigmentation, and oily or congested skin.
Unlike most other facial treatments, this revolutionary approach to skin health follows a 6-step process. It's like getting six facials in one treatment.
HydraFacial MD® offers a large number of other benefits, including:
The most powerful non-invasive treatment available
Painless
No downtime
Treatment takes only 30 minutes
Immediate visible results
Effective for every skin type
How It Works
HydraFacial MD® works through a 6-step process using the Vortex Infusion system. This non-invasive system lightly penetrates your skin, delivering antioxidants, advanced peptides, and natural hyaluronic acid for maximum results.
Vortex Exfoliation™ uses Active-4™ serum to remove dead skin cells, revealing healthy, radiant skin.
Vortex Peel™ applies GlySal™, an advanced complex of glycolic and salicylic acids that delivers all the benefits of a chemical peel, without the usual post-peel scaling.
Vortex Extraction™ is a patented automatic vortex suction that painlessly cleanses your pores with exclusive Beta-HD™ serum.
Vortext Boost™ targets your specific skin concerns with proprietary skin solutions.
Vortex Fusion™ applies Antiox+™ serum to nourish and protect your skin with potent antioxidants, advanced peptides, and natural hyaluronic acid.
Extend & Protect helps you maintain your results at home with Daily Essentials™, featuring identical ingredients used in your treatment.
ZO® Skin Health HydraFacial Brightalive® Booster Serum
This advanced booster serum applies patented skincare technology to hydrate, extract, and cleanse your skin. This super serum from ZO® Skin Health is crafted using powerfully nourishing ingredients that brighten your skin and minimize discoloration, instantly rejuvenating your face and giving it the healthy brilliance you desire.
Are there any risks or side effects?
HydraFacial MD® is a gentle treatment. Most patients won't experience any side effects. Unlike laser abrasion procedures, HydraFacial MD® doesn't vaporize skin cells, so pain, skin crusting, or inflammation generally won't occur.
Some patients may experience mild skin discomfort or irritation that should go away within a few days. Getting a HydraFacial MD® treatment from experienced professionals like the providers at BNG Aesthetics minimizes the risk of side effects.
If you experience any serious side effects, contact the office immediately.
HydraFacial MD® recovery time
This advanced treatment takes as little as 30 minutes. The procedure is virtually painless and involves no anesthesia, hospital stay, or downtime. You may return to your daily activities right after your HydraFacial MD® treatment.
HydraFacial MD® results
Most people see noticeable skin improvements after just one treatment. The smoothing and hydration may last for 5-7 days or longer. Continued treatments are advised to keep your skin looking lush, smooth, and beautiful.
How often should I get this treatment?
For maximum results and to maintain your skin's youthful brilliance, we recommend you have this treatment performed once every four weeks.
Schedule your appointment today!
Skin discoloration, hyperpigmentation, wrinkles, and fine lines can be part of the natural aging process, but you shouldn't have to look older than you feel. Discover how HydraFacial MD® advanced facial skin treatment can help you regain the youthful radiance you desire and deserve.
To learn more about how HydraFacial MD® can help restore your skin's beauty and brilliance, contact us online or call (570) 354-0420 today!
---
OUR LOCATION