The treatment & device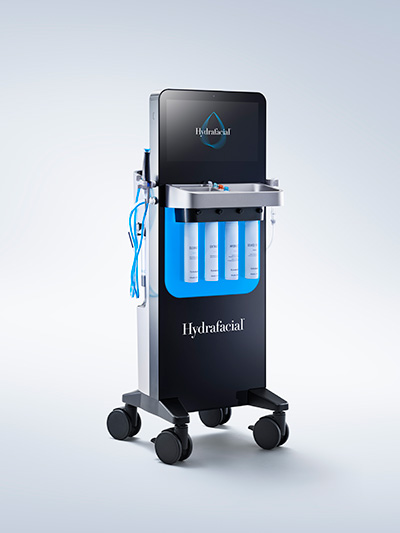 Our non-invasive treatment improves skin health, addresses individual concerns, and creates a glow like no other. Unlike traditional facials, it's performed via device rather than by hand, for deeper penetration and longer lasting results.
60-MIN. PLATINUM HYDRAFACIAL
The ultimate HydraFacial experience! Begin with soothing Lymphatic Drainage to reduce puffiness and provide the appearance of lifting and contouring. Next, reveal smooth texture and vibrant skin clarity with a purifying cleanse, gentle chemical peel, and pain- free extractions using patented Vortex-Fusion technology. Finally, targeted super serums (boosters) and LED therapy enhance results for personalized skin concerns, and the treatment concludes by bathing the skin with nourishing hydration and antioxidants for the ultimate glow and best skin of your life!
45-MIN. DELUXE HYDRAFACIAL - Great for clients with specific skin concerns
A refreshing treatment which includes all the essentials of the Signature HydraFacial while also addressing specific skin concerns using HydraFacial's super serums (boosters) to yield visible results. This is coupled with professional strength LED lights to treat skin from within.
60-MIN. CLARIFYING HYDRAFACIAL - Great for clients with acne
Deeply purify, nourish, and protect the skin through our super serums filled with antioxidants and hyaluronic acid. This treatment includes additional manual extractions of acne.
30-MIN. SIGNATURE HYDRAFACIAL - Great for teens and clients new to skin care treatments
Deeply purify, nourish, and protect the skin through our super serums filled with antioxidants and hyaluronic acid.
HydraFacial® boosters
Boosters are used to address specific skin concerns and are included in the Deluxe and Platinum treatments!
HydraFacial® results
Most people see noticeable skin improvements after just one treatment. The smoothing and hydration may last for 5-7 days or longer. Continued treatments are advised to keep your skin looking lush, smooth, and beautiful.
Are there any risks or side effects?
HydraFacial® is a gentle treatment. Most patients won't experience any side effects. Unlike laser abrasion procedures, HydraFacial® doesn't vaporize skin cells, so pain, skin crusting, or inflammation generally won't occur.
Some patients may experience mild skin discomfort or irritation that should go away within a few days. Getting a HydraFacial® treatment from experienced professionals like the providers at BNG Aesthetics minimizes the risk of side effects.
If you experience any serious side effects, contact the office immediately.
How often should I get this treatment?
For maximum results and to maintain your skin's youthful brilliance, we recommend you have this treatment performed once every four to six weeks.
Schedule your appointment today!
Skin discoloration, hyperpigmentation, wrinkles, and fine lines can be part of the natural aging process, but you shouldn't have to look older than you feel. Discover how HydraFacial® advanced facial skin treatment can help you regain the youthful radiance you desire and deserve.
To learn more about how HydraFacial® can help restore your skin's beauty and brilliance, contact us online or call (570) 354-0420 today!
---
OUR LOCATION