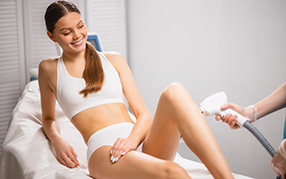 More men and women are making unwanted facial and body hair a thing of the past. We can remove unwanted hair from all parts of the body including the face, legs, arms, underarms, back, bikini line, you name it. At BNG Aesthetics we utilize the most technologically advanced Sciton JOULE™ hair removal laser, which allows unwanted hair to be treated with no downtime, minimal pain, inconvenience, and side effects. At our clinic, we do use BBL and ND YAG laser for hair reduction, which allows us to treat people with skin type I-VI.
A laser produces a beam of highly concentrated light that travels along hair shaft and causes thermal damage to the hair follicle, thus stunting regrowth of hair. No local anesthesia or pain medication is required. Some patients may prefer to use a topical anesthetic when sensitive areas are treated.
Hair removal procedures are tailored to the customer's individual skin and hair types. With a series of 3-6 treatments at 4-8 weeks intervals, you can achieve prolonged or permanent hair reduction. Maintenance treatments may be needed to keep all the hair away in a given area.
Before the Treatment:
Do not wax, tweeze or use depilatory creams for at least three weeks prior to treatment.
You can shave, however, please stop shaving for at least two days before treatment.
On the day of your treatment, please do not apply any lotions or creams to the areas you would like to treat.
Post Care Instructions
Laser Hair Reduction Prices
We offer per treatment fees, as well as, package options that provides great discounts on laser hair removal.
| | | | |
| --- | --- | --- | --- |
| Underarms | $150 | Full Face | $300 |
| Lower Legs | $350 | Sideburns | $100 |
| Upper Legs | $350 | Sideburns & Cheeks | $200 |
| Toes | $100 | Upper lip & chin | $150 |
| Full Arms | $400 | Inner Thigh | $300 |
| Full Back | $400 | Neck | $150 |
| Hands or Feet | $100 | Chest | $350 |
| Bikini-Full | $330 | Abdominal Trail | $100 |
| Bikini-Line | $150 | Back | $400 |
---
OUR LOCATION