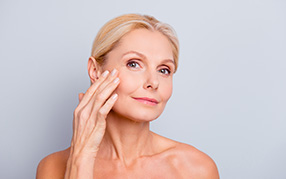 When sun, stress, and age start to rob your skin of silky-smooth texture, supple tone, and dramatic contours, you instinctively go on the offensive.
Maybe you've tried every product out there to soften laugh lines that make you look older than you are. Or wondered for years how to get rid of wrinkles on forehead skin that make you look angry when you're not. Maybe you're still doing turkey neck exercises – to no avail. Or seeking a saggy jowl treatment that actually works.
Your search ends at BNG Aesthetics.
We've spent over a decade researching how to remove wrinkles under eyes, under lips, under chins, and even how to get rid of deep acne scars – without relying on outdated technology. Our solution? Pixel8 RF Micro-Needling.
This minimally invasive heat therapy is delivered using a Rohrer Aesthetics device, which sports gold plated electrodes, single-use, medically sterilized tips, and customized penetration depth for your unique skin type and imperfection.
This robust collagen induction therapy is "color blind", so it's safe for all skin types. And, it allows us to deliver energy to 3 layers of your tissue: epidermal, dermal and sub-dermal, to stimulate fresh collagen production in your damaged skin.
All with minimal discomfort and downtime.
Visit us and see for yourself why Pixel8 is our top skin rejuvenation strategy. Contact us online to schedule a consultation or call (570) 354-0420 today.
What can PIXEL8-RF do for me?
Many of our patients have spent years trying to figure out how to get rid of large pores. When your sebaceous glands produce too much oil, your pores expand to accommodate it. Once our clinically-validated, FDA approved therapy regenerates collagen, they will tighten up again. We also deliver Pixel8 for:
smoothing of fine lines & mouth wrinkles
eye lifting
brow lifting
jowl lifting
hand rejuvenation
burn & acne scar treatment
stretch mark smoothing
vascular lesion resolution
hyperpigmentation clearing
Your BNG Pixel8 RF Microneedling Session
Our team will customize your treatment by using both insulated needles (to deliver energy to your top skin layer) and non-insulated needles (to penetrate your sub-dermal tissue).
This means minimal risk of PIH (post-inflammatory hyper-pigmentation) which is common with older lasers that don't allow such precise control and absorption predictability.
When we gently apply the micro-needle cartridge to your damaged areas, RF energy will penetrate your skin with minimal discomfort. We're able to control penetration in 0.1 mm increments – from 0.5 mm to 3.5 – according to your skin's needs.
While the energy stimulates fresh collagen production, our Arctic Chill setting will be cooling your skin for maximum comfort throughout your session.
To accelerate your collagen building we may enhance your microneedling with:
PRP: platelet-rich plasma, or "liquid gold," derived from your blood to deliver growth factors that stimulate regeneration
BBL treatments: our broadband light has been shown to change aging gene expression
Topical agents: thermal needling creates microchannels that stay open for up to 6 hours, enhancing uptake of anti-aging products like DefenAge and 8-in-1 BioSerum
You may not be an ideal candidate for Pixel8 if you: are pregnant; have psoriasis, eczema, or open wounds; have a history of skin scars; or if you've recently had radiation therapy.
Your After Care
Your treatment session will take about an hour. For 3-4 hours afterwards, you may feel some:
swelling and redness
facial hair loss
scabbing
If a scab forms, keep it moist to promote healing. Call us right away if you experience these rare, but serious complications:
bleeding
bruising
infection
Depending on your skin and treatment goals, you'll need at least 4-5 sessions at intervals of 3-4 weeks.
Post Care Instructions
Reserve Your Appointment
You don't have to look any older than you feel. Contact our BNG Aesthetics team online or call (570) 354-0420 today.
---
OUR LOCATION