Fractional Skin Resurfacing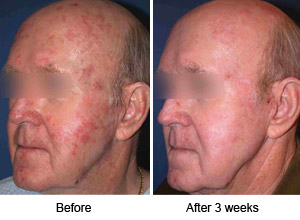 Fractional skin resurfacing is one of the most popular cosmetic procedures performed today. The procedure is safe and minimally-invasive, offering dramatic results in skin rejuvenation.
The ProFractional XC laser has the ability to treat fine lines and wrinkles, acne scars, stretch marks, and improve skin tone and texture with little downtime. Laser peels are a safe and effective way to improve the look and feel of your skin.
Profractional laser treatment can be used to minimize and eliminate: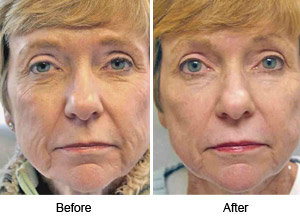 Wrinkles and fine lines
Post-traumatic scars
Acne scars
Age spots
Sun spots
Freckles
Stretch marks
Aging and sun-damaged skin
How does profractional resurfacing work?
ProFractional technology works by using a precise pinpoint laser beam to treat tiny areas of the skin. During treatment, a deep ablative laser is applied to the surface of the skin that affects only a fraction of the area. Thousands of microscopic channels are created in the skin, leaving uninjured skin between the treated areas. This removes dead tissue and stimulates the production of new collagen, plumping up the skin and smoothing out wrinkles, lines, scars, and other irregularities. Significant changes are seen after the first treatment, but multiple sessions are typically recommended. The face, neck, chest, arms, and hands can be treated with the ProFractional XC laser.
What to expect during & Post Treatment?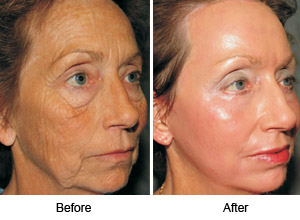 The procedure takes 15-40 minutes, depending on the size of the treatment area and the specific condition to be addressed.
To ensure a comfort during the procedure, a topical anesthetic cream applied for 30-60 minutes prior to treatment. After treatment, there is little or no pain, although you may feel warmth similar to sunburn. Most patients are able to drive themselves home unless they were given oral pain medications. You will be instructed to wash your face with cool water and keep the skin moist by applying Aquaphor ointment.
Most patients are able to return to a normal work schedule in about 4-7 days, once the skin's surface begins to heal. Patient recovery is rapid and cosmetic improvement continues for months after the procedure. Sunscreen is extremely important to protect the skin during the healing process.
How many treatments are required?
Treatment results are immediate and progressive. At BNG Aesthetics, we typically recommend 2 or 3 sessions, spaced 4-8 weeks apart. In many cases, ProFractional XC laser treatment is combined with a MicroLaserPeel™ or another treatment for the best results. After one treatment, you will begin to see and feel the difference in your skin. Gradually, your skin will become smoother and tighter. Fine lines around your mouth and eyes will noticeably fade and uneven pigmentation and brown spots caused by the sun will be less noticeable. Optimal results are usually visible within 2-3 months.
Request Your Consultation Today!
To schedule a complimentary consultation or for more information about Profractional Skin Resurfacing, please click here or call us at (570) 354-0420. We will be happy to answer your questions and give you an accurate pricing for your treatment.
---
OUR LOCATION