How Shockwave Therapy Can Boost Your Liposuction Results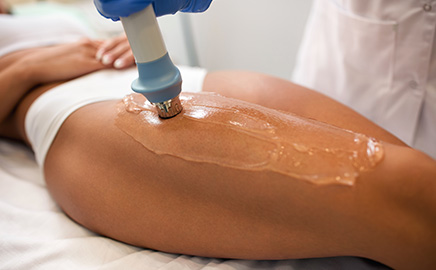 Beauty is a state of well-being and joy. When we feel beautiful, we walk more confidently and feel good about ourselves.
At BNG Aesthetics, we provide aesthetic medical solutions to help you feel beautiful in the skin you're in. We do that by combining breakthrough technology with innovative therapies that are minimally invasive and non-surgical.
One powerful combination that's brought successful results for our patients is combining shockwave therapy with liposuction to maximize your liposuction results.
What Is Shockwave Therapy?
Shockwave therapy is a non-invasive treatment that's based on scientific expertise. It uses sound impulses to stimulate your body's natural ability to heal itself.
Storz Medical, the creator of the device we use, is considered the leader in shockwave technology. Up until recently, shockwave therapy was largely used in other fields of medicine such as sports medicine, rehabilitation, urology, orthopedics, gastroenterology, and cardiology.
Storz Medical became the first in the world to modify shockwave therapy and apply it to the field of aesthetic medicine. Now, this life-changing technology is used to help reshape your body, firm up your skin, and help you heal after other cosmetic procedures, such as liposuction.
Shockwave therapy uses energy waves that are gently pulsed into your skin. This sculpts your body and smoothens the appearance of skin by improving blood flow to your skin tissue. The results are incredible. Treatments can:
Break up dead fat tissue
Increase circulation
Improve lymphatic drainage
Speed up healing time
Reduce and prevent the formation of scar tissue
This procedure is especially effective when it's used in conjunction with our other treatments.
Why Combine Shockwave Therapy with Liposuction?
Why are we focused on maximizing your liposuction results? Because it's one of the top five most common cosmetic surgeries. And it's no surprise why – liposuction can help eliminate stubborn pockets of fat that won't go away no matter how much exercise or dieting you do.
But despite its popularity, many patients are concerned about their recovery time, results, and possible scarring. That's where shockwave therapy comes in.
After having liposuction, it's common to experience swelling and discomfort. While recovery time can depend on the patient, for most, it can take up to a week before you can return to work. It's typically recommended to not perform any strenuous exercise during the first month, and perhaps longer. This can throw a major curveball in your day-to-day lifestyle.
Shockwave therapy helps speed up your recovery time, so you can get back to enjoying your life sooner.
Part of that recovery includes scarring. Liposuction involves making small incisions in a targeted area to disrupt and remove unwanted fat cells. While these incisions are small, they will scab over and could eventually scar. Shockwave therapy can reduce or even prevent scar tissue from forming. It does this by increasing the blood flow to the targeted area which breaks down fibrous scar tissue that can build up over time.
One of the most exciting parts of shockwave therapy is how it enhances your liposuction results. It promotes collagen production and renewal, which results in smoother, firmer skin.
Plus, liposuction alone won't typically remove that pesky cellulite. But shockwave therapy can help you get rid of those unwanted cellulite bumps and lumps for a silkier silhouette.
Because of its versatility, shockwave therapy can be used on different parts of your body – your arms, hips, and legs, to name a few. You can benefit from this breakthrough treatment no matter what problem area you'd like to address.
Book Your Post-Liposuction Shockwave Therapy Consultation at BNG Aesthetics
During your initial consultation, we'll talk through your beauty goals, address your concerns, and answer your questions. We'll also discuss whether shockwave therapy is the best fit to achieve the results you're seeking.
Shockwave therapy is primarily performed two weeks after you receive liposuction. So, if you're considering liposuction, we highly recommend setting up a consultation with us beforehand.
To get started, give our Williamsport, PA clinic a call at (570) 354-0420 or contact us about maximizing your liposuction with shockwave therapy through our website.
We look forward to helping you achieve your beauty goals at BNG Aesthetics!
---
OUR LOCATION