Are you ready to enhance the health and appearance of your skin? Visit the cosmetic leaders at BNG Aesthetics and discover the new innovation in aesthetics medicine, the automated Micro-Needling treatment with SkinPen™. Bellus Medical SkinPen™ device works with the body's natural immune response in a treatment called "percutaneous collagen induction therapy" (PCIT). SkinPen™ is a fractional device that creates small channels in the skin and activates the natural restorative processes of the body to transform blemished and damaged tissue into smoother, clearer, more vibrant skin.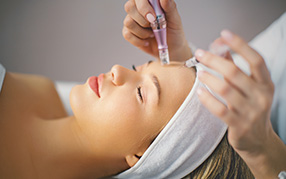 Benefits of the Bellus Medical SkinPen™
Bellus Medical SkinPen™ has a positive effect on a wide range of conditions:
Fine lines and moderate wrinkles
Uneven skin tone and texture
Premature aging from sun exposure
Stretch marks
Scars from acne, surgery or traumatic injury
Enlarged pores
Mild to moderate skin looseness
The SkinPen™ can be used to treat face, neck, décolletage, back, abdomen, arms, hands and legs.
How does it work?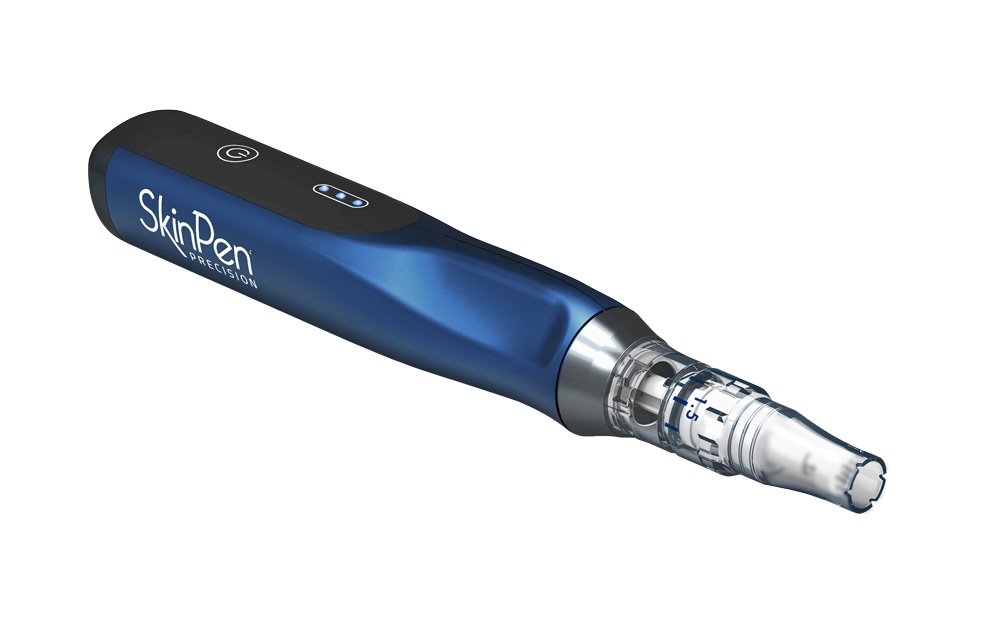 The SkinPen™ device uses multiple microscopic needles that penetrate the surface layers of skin in a very precise manner. These micro-injuries to the skin stimulate the body's natural immune response to produce new collagen and elastin - the support system of healthy skin. As the treated area heals, smoother and healthier-looking skin appears.
At BNG Aesthetics we use micro-needling techniques for application of topical gel or PRP (Plasma Reach Platelets). Platelets in your blood contain numerous growth factors that stimulate proliferation of collagen and hyaluronic acid. Natural collagen production results in a reduction in the appearance of fine lines, wrinkles, acne scarring, even pore size while hyaluronic acid has been shown to increase skin tone and volume providing a more youthful appearance. The SkinPen™ can also be used with Hyaluronic Acid and other peptide gels.
What areas can be treated?
Micro needling can be safely used on nearly all parts of the body with the most frequent treatments being on the face, neck, decollete, arms and hands.
What can i expect?
To make you comfortable during the procedure a numbing medicine will be applied to the desire area of treatment for about 45minutes. A sterile needle-tip containing 12 tiny micro-needles is attached to the Bellus Medical SkinPen. A thin layer of topical gel will be applied to your skin and select the appropriate treatment depth based on your unique needs will be chosen. Next, in a single motion, the pen is gently pressed against the skin while simultaneously gliding in one direction until the entire treatment area has been covered. Treatment time depends on the size of the treatment area and usually takes about 15 to 30 minutes.
What is the downtime?
Immediately after the treatment you will notice a bright redness to the skin. The redness may take anywhere from 24 hours to 4 days to go away. The total healing time depends on the depth of needles used and the number of overlapping passes. Utilizing PRP post treatment will speed up the healing process.
When will i see the results?

Visible improvements to the treated area begin to appear over 2 to 3 weeks. Results continue to improve up to 6 months following treatment as collagen production continues.
How many treatments will i need?
Some patients only require 1 treatment each year. For optimal results, we recommend to receive a series of 3 treatments at intervals of 3 to 6 weeks. More severe or advanced conditions, such as scars or deeper wrinkles, can require up to 8 sessions at 6 weeks intervals.
Schedule Your Consultation!
To schedule a consultation or for more information about Bellus Medical SkinPen™ please click here or call us at (570) 354-0420.
---
OUR LOCATION