SKIN TIGHTENING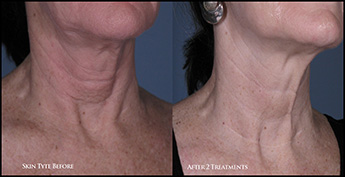 When anti-aging creams are just not enough and surgery is not an option, SkinTyte™ might be the answer! The SkinTyte™ is a non-invasive treatment option for skin laxity that stimulates the production of collagen, restoring youthful elasticity to the face, neck, upper chest, abdomen and the hands. Advanced light technology utilizes infrared light energy produced by Sciton's Broad Band Light technology and is designed to selectively heat the dermal collagen deep within the skin while simultaneously cooling the outer layer of skin. Three to six (3-6) treatments, spaced 2-5 weeks apart is needed for most patients. SkinTyte ™ treatment may also be combined with other procedures to magnify the outcome.
HOW DOES SKINTYTE WORK?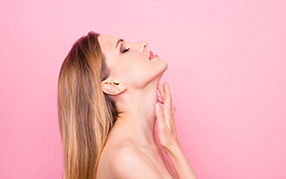 The SkinTyte™ procedure takes about 45 minutes. The light energy is delivered in a sequence of rapid, gentle pulses to deeply heat dermal collagen. This process promotes partial contraction of collagen. The heat also initiates the body's natural healing process which creates a renewed collagen foundation leading to increased skin firmness. Powerful cooling maintains the outer surface of your skin at a cool temperature before, during, and after each pulse providing the patient a comfortable and safe procedure. A series of pulses will be repeated over the treatment area to ensure best results
WHAT SHOULD I EXPECT AFTER TREATMENT?
You may experience some mild redness in the treated area immediately after and this should return to normal within minutes. There is no downtime with this procedure and you can resume regular activities immediately following treatment. You can also apply makeup and sunscreen after each session.
WHAT RESULTS SHOULD I EXPECT?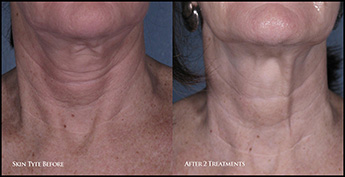 The SkinTyte™ procedure is recommended for patients who desire moderate, noticeable skin improvement without having to undergo surgery. The results may vary from patient to patient. The majority of patients feel that their skin is tighter after just one treatment, but visible improvements in skin laxity generally take place over three to six months, as the collagen foundation of your skin is rebuilt and strengthened.
WHAT AREAS CAN BE TREATED?
SkinTyte™ treatments are safe for all skin types and can be performed on any area of the body where an improvement in your skin firmness is desired. Popular areas include the eye area, face, neck, abdomen, and arms. Individualized protocols will be developed during the consultation to help you achieve your desired outcome.
WHAT AFTERCARE DO I NEED?
No special skincare regimen is required following treatment. However, you should always protect your skin from direct sun exposure and use a good sunscreen. One of our highly trained professionals can also recommend an at home skin care regimen if desired.
REQUEST YOUR APPOINTMENT TODAY!
For further information on SkinTyte™ Treatments or any of the other services at BNG Aesthetics Skin & Laser Center, please call us or request a consultation online by clicking here.
---
SKINTYTE PRICING
We offer per treatment fees as well as package options at a $200.00 discount on SkinTyte™ procedure.
| | Skin Tyte | Package of five |
| --- | --- | --- |
| Face or Neck | $400 | $1800 |
| Décolleté | $500 | $2000 |
| Face & Neck | $700 | $3000 |
---
OUR LOCATION