Do you have problem areas? Turkey neck? Double chin? Flabby tummy? Wrinkly skin above knee? Or extra skin on your thighs? Aging can take its toll on your body, but with a revolutionary new procedure from Thermi™ you can turn-back the clock WITHOUT SURGERY. ThermiTight™ is minimally invasive and has been clinically proven as a safe and effective treatment for tightening troublesome skin. BNG Aesthetics Skin & Laser Center is proud to offer this great treatment option.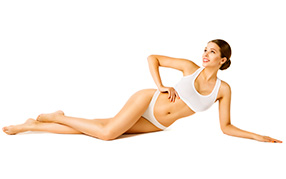 What is ThermiTight®?
Available since 2012, ThermiTight® is the first aesthetic procedure to deliver controlled thermal energy below the skin to minimize and reverse the effects of aging on your body and face. Not having to go under the knife, deal with long recovery times and immense expense has made ThermiTight™ the only option for many looking to reverse the effects of aging quickly and safely. ThermiTight® is even FDA approved.
How does ThermiTight® Work?
As a painless, micro-invasive procedure, ThermiTight® uses radiofrequency energy applied directly to your trouble spots which causes an immediate shrinking effect. In fact, ThermiTight® using ThermiRF™ technology has been shown to tighten skin far greater than any other available non-invasive treatment option, over a 30x increase in your skin's current tightness! ThermiTight® melts areas of bothersome, unwanted fat, which your body can then naturally eliminate.
Who Can Benefit from ThermiTight®?
ThermiTight® is for all walks of life. Men, women, young and old. If you have bothersome sagging skin or pockets of stubborn fat in your neck, face, stomach, arms, thighs, under-eyes, knees, etc. ThermiTight® is for you! Designed specifically for people who are seeking a non-invasive yet effective procedure, ThermiTight® can give you the same fat reduction and skin tightening benefits of surgery. ThermiTight® also takes effect instantly and can last several years!
ThermiTight® Procedure
A trained professional at BNG Aesthetics Skin & Laser Center will numb a small area with local anesthetic. Next, a very small incision will be made and the radiofrequency fiber will be inserted under your skin. The fiber will then heat as radiofrequency energy is applied; this energy is then transferred into your troublesome area, melting fat and tightening skin. The usual procedure takes just under an hour, with recovery requiring only about 24-hours. The results of ThermiTight® take place immediately, improve with time and last several years!
To learn more about ThermiTight®, or any of our Thermi™ procedures, contact BNG Aesthetics Skin & Laser Center and schedule a consultation today at (570) 354-0420 or contact us online.
---
OUR LOCATION