Do you feel "loose" vaginally? Do you experience urinary incontinence? Have intimate relationships suffered? Stretching of the vaginal skin and muscles is a common occurrence women experience at all stages of life. Current treatment options are often expensive and require surgical procedures. A new, innovative treatment option from Thermi™, called ThermiVa®, helps tighten vaginal skin and muscles without surgery. If vaginal discomfort and stretching is destroying your confidence then ThermiVa® through BNG Aesthetics Skin & Laser Center may be the solution you have been seeking!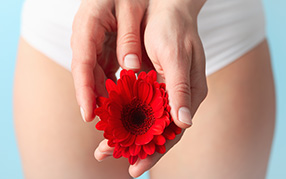 What is ThermiVa®?
ThermiVa® is the first and only non-surgical, minimally invasive, vulvovaginal rejuvenation procedure to tighten the vaginal canal and restore the appearance of the labia. With no anesthesia, shots or numbing cream required, and no post-surgical recovery or scarring, ThermiVa® provides a pain-free, vaginal rejuvenation solution to the millions of women affected by female gynecological conditions.
How does ThermiVa® Work?
ThermiVa® uses a thermistor-regulated, radiofrequency emission device to gently heat vaginal tissues (externally and internally). The heat and energy shrink and tighten vaginal tissue and stimulate new collagen growth. Collagen is the most abundant protein in our bodies to help hold the body together. Aging slows down the production of collagen, resulting in wrinkled and sagging skin. The collagen growth stimulated by ThermiVa® results in tighter and smoother looking skin.
Who Can Benefit from ThermiVa®?
Most women experience some form of incontinence, sexual dissatisfaction, vaginal dryness or discomfort due to childbirth or aging. ThermiVa® can benefit any woman but is particularly effective for mothers who have had vaginal births and women in the menopausal stage of life. Also ideal for women who want to avoid invasive surgical procedures like vaginoplasty, ThermiVa® can be performed shortly after childbirth and between pregnancies.
ThermiVa® Procedure
Using an "S" shaped handheld wand, a trained professional at BNG Aesthetics Skin & Laser Center will gently apply radiofrequency heat to the vaginal areas including the external labia and the internal atrophic tissue. Most patients report ThermiVa® feels like a mild, internal, warm massage. The in-office procedure takes 30-45 minutes, focusing on small areas for 3-5 minutes at a time, depending upon a patient's heat tolerance. ThermiVa® is pain-free and requires no downtime for recovery. Patients are encouraged to resume normal daily and sexual activity immediately following the procedure. Multiple sessions are recommended with noticeable improvements after the first or second sessions. Results of the ThermiVa® procedure typically last 9-12 months.
ThermiVa® is a revolutionary vulvovaginal rejuvenation procedure that can help you to restore your confidence and reclaim your feminine wellness. To learn more about ThermiVa® or any of our Thermi™ procedures, contact BNG Aesthetics Skin & Laser Center today at (570) 354-0420 or request more information online
---
OUR LOCATION