What is VASERlipo®?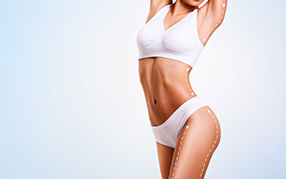 Move over Liposuction. VASERlipo® is the next generation of high-def body contouring and sculpting treatments. If diet and exercise haven't helped you to slim down those hard-to-exercise target areas, VASERlipo® may be your solution.
Whether you're seeking a minor tuck in a problem area or a dramatic whole-body transformation, VASERlipo® minimally invasive ultrasound technology can help you achieve the beautiful silhouette you want and deserve.
BNG Aesthetics proudly offers our pampered patients the best, most advanced cosmetic procedures. To learn how VASERlipo® can help you achieve the contoured body you dream of, contact us online or call us at (570) 354-0420 today!
Who is a good VASERlipo® candidate?
You may be a good candidate if you:
Are in good general health
Have firm skin
Are within about 30% of your ideal body weight
Have no chronic health conditions
Are a non-smoker
Other factors may influence your VASERlipo® eligibility. Speak with our specialists to learn more details.
How is VASERlipo® performed?
VASERlipo® is a minimally invasive ultrasound liposuction technology that targets fat cells while protecting nearby tissues from damage. Precision and versatility are its key strengths—VASERlipo® is powerful enough to eliminate substantial pockets of fat cells from your hard-to-exercise areas, but mild enough to target sensitive areas like the neck and arms.
First, you'll receive a local anesthetic to prevent you from feeling pain. Then the groundbreaking VASERlipo® ultrasound technology will break up fat cell deposits in very specific areas without damaging delicate neighboring tissue. This precision ultrasound device delivers energy to the targeted area, dissolving fat cells into liquid. This liquid is then drained using suction and very small tubes.
Required procedure time varies depending on your specific treatment plan. Speak to our specialists to learn more.
What are the benefits of VASERlipo®?
VASERlipo® offers a huge number of benefits:
Less expensive than most traditional body sculpting procedures
Minimally invasive: no surgery or major incisions
Safe, time-tested technology: VASERlipo® is not an "experimental" treatment
Predictable outcomes: VASERlipo® results are clinically tested
Fast treatment and recovery time: no general anesthesia or hospital stay
Results resemble surgical procedures minus the risks, downtime, or side effects
What results can I expect?
Unlike older surgical Liposuction or body sculpting techniques, VASERlipo® targets specific problem areas with precision technology. In many cases, you will see your desired results after just one treatment. VASERlipo® is tissue-selective, so it focuses on fat cells and does no damage to surrounding tissues, leaving your skin smooth and your body gorgeously contoured.
Fatty deposits continue breaking down weeks after your treatment, so your results may improve over time, especially when combined with regular diet and exercise.
Healthy patients who follow a balanced diet and exercise regimen will benefit most from VASERlipo®. For best results, it is advisable to begin dieting and exercising before undergoing this procedure, and to continue doing so after you recover from your procedure.
Are there any side effects?
VASERlipo® generally produces mild or no side effects. After you receive local anesthesia, our specialist will fill the area to be treated with a saline solution to minimize post-procedural bruising and swelling.
The melted fat is removed from your body using suction and tiny tubes. These tubes are inserted into your skin, but the cuts are so small they will not require stitches.
Minor side effects may include:
Slight pain at injection site
Soreness
Bruising
Tenderness
Swelling
As with any medical procedure, there is always some risk of side effects. The following serious side effects of VASERlipo® are very rare, but if you experience them, always get medical assistance immediately:
Fat or blood clots
Low blood pressure
Friction burns
Fluid buildup
Skin or deep tissue injury
Lidocaine toxicity
Can fat removed by VASERlipo® be used for natural fat grafting?
Yes! Now you can enjoy the natural benefits of youthful fullness and volume without the risks and downsides of artificial fillers. The future of fat grafting is available today at BNG Aesthetics, allowing you to "take a little from here and move it there", producing delightful, long-lasting results.
The fat is cleared of blood and other undesired substances that can cause infections or other side effects. Once your provider has the necessary amount of prepared fat from your targeted areas, it can be transferred to many different parts of your body. Common areas of fat removal are hard-to-exercise areas like your abdomen, hips, and thighs.
Because 20-50% of injected fat can be reabsorbed, your provider will inject about 30% more fat into your skin than is needed. This is normal and produces optimal outcomes.
Some of the most popular fat grafting procedures include:
Hand smoothing and restoration
Age can take its toll on your hands, causing wrinkles, boniness, and grooves. VASERlipo® can restore a more youthful appearance. Unlike dermal fillers, your natural fat can be transferred for a natural, longer-lasting look.
Facial smoothing and contouring
Using microinjection, very small amounts of your harvested fat can be placed into several layers of your face, filling in wrinkles, creases, and sunken areas around your eyes or mouth.
Natural breast enlargement
While earlier fat grafting breast techniques usually failed, modern grafting procedures are much more reliable and produce more successful results.
Now you can have the supple, natural-looking breasts you've always wanted, without risking the side effects of synthetic materials.
Buttock augmentation
Have you ever dreamed of having a more curvaceous figure? BNG Aesthetics can artfully sculpt your body into the silhouette you've always wanted. This sophisticated technique can lift, shape, and augment your lower quarters, creating smooth, full, feminine curves.
The most common type of procedure is called the Brazilian Butt Lift, which is a combination of liposuction and fat grafting injections. Now you can enjoy the lush, sexy curves you've always craved, without the risks and side effects of older body contouring surgeries.
Fat grafting risks and side effects
Modern grafting techniques present very few risks or dangers. A needle is gently inserted a number of times into your desired areas. Transplanted fat generally "takes" to that area and stays for a long time.
Swelling may occur, but it usually resolves within two to three weeks. You may have to treat the injected area gently for a few weeks by sitting on a pillow or sleeping on your side. This post-procedure care improves your results.
Unlike implant surgeries, this technique presents no risk of your body rejecting the material, and there is very little risk of complications such as rupturing or leaks.
Discuss natural fat grafting with our specialists to learn more about this cutting-edge technique.
Schedule your appointment today!
You don't have to be self-conscious about your weight forever. VASERlipo® high-def body contouring technology is an innovative technique that can help you sculpt the beautiful figure you've always wanted.
BNG Aesthetics proudly offers our patients the best and most advanced cosmetic procedures. To learn how VASERlipo® can help you enjoy a healthier, more beautiful you, contact us online or call us at (570) 354-0420 today!
---
OUR LOCATION