Viora REACTION™ the new generation in body contouring, cellulite reduction and skin tightening treatments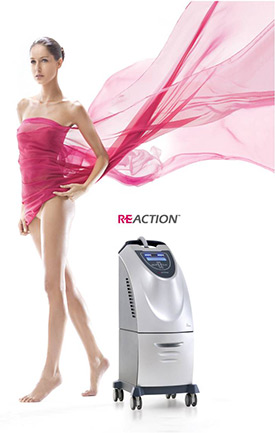 The REACTION™ by Viora is a new, cutting-edge radio frequency technology that offers most wanted noninvasive treatments for:
Cellulite Reduction
Skin tightening for aging and lax skin on the face and body
Circumferential Reduction
Skin Tightening for reduction of stretch marks
REACTION™ is FDA cleared for temporary reduction in the appearance of cellulite, relief of minor muscle spasm, and temporary improvement of local blood circulation. It works on all skin types and colors year-round. This new innovative advanced treatment option is now available to men and women right here at BNG Aesthetics Skin & Laser Center.
How does REACTION™ work?
With aging our ability to produce collagen diminishes, resulting in wrinkles and skin sagging. The Viora REACTION™ system utilizes multiple radiofrequency channeling to target tissue at varies depth. This CORE (Channeled Optimal RF energy) technology features three distinct RF frequency channels and an additional 4th dimension of multi-channel mode that concentrates all three RF frequencies in one pulse. Combining CORE technology with vacuum therapy the REACTION™ is able to reduce cellulite and tighten the skin.
Cellulite and Circumferential Reduction
Using radiofrequency technology the heat is gradually delivered to multiple layers of the skin and subcutaneous tissue. This process strengthen the dermis against the invasion of adipocytes and stimulates metabolic breakdown of fat cells, at the same time enhancing blood circulation to the treated area. REACTION™'s 4th dimension, multi-channel mode creates a stronger, more accurately distributed thermal response. Combining multiple frequencies with vacuum therapy further intensifies treatment and facilitates deeper tissue penetration allowing for effective cellulite treatment, circumferential reduction, and skin tightening at the same time. For cellulite and circumferential reduction, 8 to 9 treatments are needed, scheduled one week apart. One maintenance treatment is recommended every 4 months after completion of the treatment plan.
Skin Tightening
REACTION™'s skin tightening treatment applies bi-polar RF energy to heat the dermis producing the added benefits of strengthening tissue fibers and dermal collagen. Balance the demands of frequency, intensity and an integrated skin cooling system to ensure the safest and most effective result RF energy stimulates fibroblast in the dermis to improve skin's elasticity, enhance collagen secretion and induce the production of pro-collagen for long term effects.
Thinner, more sensitive forehead and periorbital areas are treated using a higher frequency with minimal patient discomfort, while thicker regions such as the cheeks, abdomen and back are treated with lower or multi-channel modes.After the first treatment with REACTION™ you will instantly notice smoother contours and an overall improvement in skin laxity and texture. For skin tightening on the face, 4-6 treatments and on the body, 4-9 treatments scheduled 2 weeks apart are recommended, depending on the level of correction needed. One maintenance treatment is recommended 4 months after completion of the treatment plan.
What are the benefits of the Viora REACTION™
The skin is build up from three layers: the epidermis, the outermost layer of skin, that provides barrier and creates our skin tone, the dermis, collagen-rich layer, and the deeper subcutaneous layer that is made of fat and connective tissue. Aging, family heredity and sun exposure are causing the collagen to break down, resulting in skin sagging and wrinkle formation. Most available skin tightening devices on the market offer treatment that work on superficially aspects of the skin and therefore do not restore the collagen in the dermis or the inner layers of the skin. The REACTION will aggressively increase collagen production, reduce appearance of cellulite as well as provide tightening of the skin.
Who can be treated with REACTION™
The REACTION™ treatment is ideal for patients with mild to moderate skin laxity as well as for the patients with skin condition known as cellulite, where the skin presents with a dimple surface and an irregular tone and firmness. The Viora Reaction™ is successfully used on the face and the body. We use Reaction™ for treatment of full face, neck, jowls, chin, marionette folds and around the eyes. Body treatments are used on inner and outer thighs, arms, buttocks, knees and abdomen. It is a great option for improving the results of plastic surgery - like a facelift or liposuction procedure. It can also improve body shaping following a weight-loss program or pregnancy. Reaction™ can be used safely and effectively in patients in their 30's through 60's, who is looking for the non-invasive ways of smoothing and tightening the skin as well as contouring, body shaping and cellulite reduction.
What is a typical treatment like?
The Viora's treatment has absolutely no downtime. Patients can return to their daily routine immediately after the session. The treatment in most cases is pretty comfortable. You will experience a deep but brief sensation of heat that is gradually adjusted to your comfort of tolerance. The face typically requires 4-6 passes of radiofrequency (RF) energy. The tip of the hand piece has a cooling sensation while in contact with the skin. The tip cools and protects the epidermis while the energy penetrates deep into the skin to heat collagen fibers in the dermis and subcutaneous tissue. During the Viora body contouring procedures, the heat will be accompanied by a vacuum, which is also adjusted to your comfort level.
What are the common side effects?
The Viora is not suitable for patients with pacemakers, internal defibrillators, or other implanted electrical devices. It is also not recommended for patients who are pregnant or who suffer from an auto-immune disease. During the treatment a deep heating sensation will be noticeable and is an indication that the treatment is stimulating your own collagen production. Common side effects include swelling, redness and bruising. Redness typically subsides within a few hours after the treatment. Swelling typically resolves within a day but can last 3-5 days for some patients. Bruising may occur as a result of the vacuum during the procedure, and usually subsides within a few days.
When can I notice results?
Most patients will notice subtle tightening immediately post-procedure but more noticeable results will be evident 2 months after the treatment. One maintenance treatment is recommended every 4-6 months after completion of the treatment plan.
Contact BNG Aesthetics Skin & Laser Center
Contact us today to schedule your free consultation and to find out how you can get the body you've always wanted with advanced treatments from BNG Aesthetics.
For more information please visit: www.viorareaction.com
---
OUR LOCATION