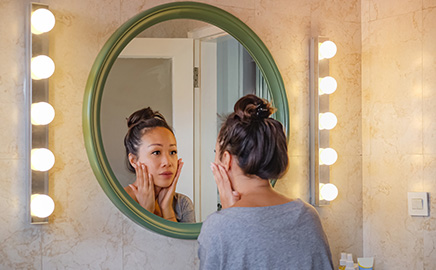 How to Rejuvenate Your Skin With HALO™ Hybrid Fractional Laser Treatments
Imagine jumping out of bed every morning, gazing into the mirror, and falling in love with your smooth, beautiful skin. Skin, so soft and radiant, you wouldn't want to cover it with makeup, hide it under a turtleneck, or bury it behind sunglasses.
Whether it's sunspots, acne scars, an uneven skin tone, or the normal aging process – throughout your life, your skin naturally changes.
You've tried over-the-counter products that promise results – but fail to deliver.
You've looked into surgeries or procedures – but they sound painful and expensive.
You try hiding your skin – but you crave freedom.
Shouldn't there be an easier way to get smooth, glowing skin? Well, with HALO™ hybrid fractional laser treatments, there is.
HALO laser treatments use the world's first hybrid fractional laser – a cutting-edge technology that's been upstaging other laser options and transforming the aesthetic skincare industry. If you're tired of trying products that aren't working and want to love the skin you're in, consider booking a HALO laser treatment at BNG Aesthetics.
What Is HALO™ Hybrid Fractional Laser Treatment?
When it comes to treating skin conditions, laser therapy has been a go-to choice for years. However, only one of two types of lasers have traditionally been used:
Ablative Laser. This type of laser removes the outer layers of your skin to minimize fine lines and wrinkles or remove scars. This more intense treatment usually requires a longer recovery time and involves stimulating the production of new skin cells.
Non-ablative Laser. Non-ablative lasers use pulsed-dye lasers, pulsed light, or fractional lasers to remove surface-level issues like rosacea, acne-related concerns, or spider veins. These procedures heat the skin tissue but don't destroy it, resulting in a quicker recovery.
HALO™ laser treatment takes the best from both lasers – the effectiveness of ablative and the quick healing time from non-ablative – to repair and rejuvenate your skin. It does what other laser treatments can't. And the results are astonishing.
Why Should I Choose HALO Laser Treatments?
In the past, you had to choose between exceptional results or a short recovery. But with HALO™ laser treatments, you can have both – maximized results with minimal downtime. This means:
Faster healing. You can wear make-up just 24 hours after your procedure.
Almost no recovery time. You can head back to work within a couple of days after your session.
Quick results. Unlike non-hybrid technology, which takes 5-6 treatments for impressive results, with HALO you can see remarkable improvement within just 1-2 treatments.
When it comes to laser resurfacing, HALO provides an easy, comfortable, and unmatched experience.
What Do HALO Lasers Treat?
Because of its dual-wavelength technology, HALO treatments can address a host of issues in the same treatment session – issues, such as:
Fine lines and wrinkles
Sun damage
Scar revision, including acne scars
Normal signs of aging
Skin texture and pore size
Pigmented lesions
While HALO is commonly used on the face, other popular treatment locations include the neck, hands, arms, chest, and legs. Plus, this cutting-edge technology is versatile enough for all skin types, complexions, and ages.
While you can expect to see results in as little as 1-2 treatments, for maximum benefits, we recommend 3-5 treatment sessions that are spaced at least one month apart.
What Are HALO™ Laser Treatments Like at BNG Aesthetics?
At BNG Aesthetics, we meet with you to understand your skin care goals and to explore if HALO is the best solution for you. After our initial consultation, our skincare specialists will create your personalized HALO laser treatment plan.
Before your first session, we recommend a skin conditioning regimen with medical-grade products, such as ones from DefenAge, Epionce, and ZO Skin Health. This helps reduce any post-treatment hyperpigmentation risks and speeds up your healing time.
When you arrive for your treatment, we'll guide you back to one of our private treatment suites. We'll then apply a topical anesthetic about 30-60 minutes before your treatment so you can relax and feel comfortable.
During the session, we'll glide the HALO laser tool over your skin so the lasers can work their magic. Most patients describe feeling a warming sensation during and after their treatment. We help reduce that feeling by cooling your skin afterwards with ice packs. Your full session will last a couple of hours in total.
Afterward, you may notice minor swelling, redness, or feeling like you have a sunburn. These are temporary and usually go away after a couple of days at the most. Because of this, you may want to consider having your HALO session on a Friday so you have the weekend to recover.
Post Care Instructions
Restore Your Skin – Book Your HALO Consultation at BNG Aesthetics
Gone are the days of choosing between results and recovery. With HALO laser treatments, you can have that radiant glow you're looking for and be back to living your life in no time.
If you're ready to rejuvenate your skin and get that HALO glow, we invite you to set up a consultation. Give our Williamsport, PA clinic a call at (570) 354-0420 or contact us through our website.
Our trained specialists will walk you through the process, listen to your concerns, and create a personalized plan to help you achieve your skincare dreams.
---
OUR LOCATION