Botox, Thermismooth, Profractional Skin Resurfacing, Dermal Fillers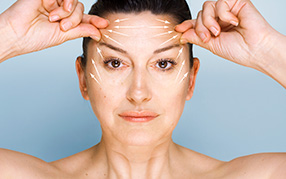 Have wrinkles become an accepted part of aging? That may be the "common wisdom" on the subject, but there is an alternative to wrinkles, crow's feet and more.
Neuromodulators such as Botox Cosmetic®, Dysport®, or Xeomin® provide a safe, effective solution for helping you look younger non-surgically. They are administered so as to not alter your natural expression and features.
Botox Cosmetic ®, Dysport® or Xeomin® are not used to prevent patients from expressing themselves but simply to keep them from making facial grimaces and frowns that have become habits and are unintended. When administered correctly, treatment transforms patients look into more rested, happier and radiant.
If you're interested in using Botox Cosmetic ®, Dysport® or Xeomin® to achieve the look you've always wanted, please call (570) 354-0420 or request more information online.,
Some of the imperfections most commonly treated with Botox Cosmetic®, Dysport® or Xeomin® include:
Wrinkles
Crow's feet
Frown lines
Forehead lines
Eyebrow wrinkles
Forehead furrows
In addition to these cosmetic issues, Botox® has also proven effective in treating some medical issues such as migraines, hyperhidrosis (excessive sweat) and some forms of bladder dysfunction. If you're struggling with wrinkles, eyebrow-lines or even migraines, Botox may be the solution you need.
Dermal Fillers
Dermal fillers have completely transformed the anti-aging game for restoring age related volume loss, filling wrinkles and redefining facial youth.
As we age, our skin tends to lose its youthful appearance as the production of the collagen in our facial skin begins to break down and the hyaluronic acid (HA) diminishes, leaving lines, wrinkles and folds where our skin was once youthful and radiant.
Dermal fillers are substances that are used to treat deep wrinkles, creases, folds, loss of youthful contours, hollows or acne scars. Fillers are very effective for lip enhancement, folds and lines around the mouth, chin and nose reshaping and to generally reduce the effects of aging.
Dermal fillers are able to take years off your face and delay the necessity of surgery. Even though surgery offers long lasting results, the statistics show that patients prefer non-surgical approach to facial rejuvenation.
Often called "liquid facelifts," dermal fillers can add immediate volume back to your face, without the excessive cost or downtime of a surgical facelift. The process is simple: a substance is injected into the desired areas of correction to smooth wrinkles by adding volume beneath the surface of the skin.
Patients may experience slight swelling and some bruising may occur, but most patients can return to their activities the same day. The effects of treatments can be seen almost immediately.
Areas Treated with Dermal Fillers
Lines around the mouth
Dark circles under eyes
Hollow Temples
Nose (Non-surgical Rhinoplasty)
Marionette lines
Jowls
Sagging cheeks
Thin lips
Nasolabial folds (folds alongside mouth up to nose)
Earlobes
Hands
At BNG Aesthetics, we use various types of FDA-approved dermal fillers to restore a more youthful appearance and also to enhance your most beautiful facial features.
BELLAFILL®
JUVÉDERM® ULTRA XC, JUVÉDERM® ULTRA PLUS XC
JUVÉDERM VOLUMA™
RESTYLANE®
RESTYLANE LYFT®
RESTYLANE SILK®
BELOTERO Balance®
RADIESSE®
Do I Need Dermal Fillers or Botox®?
If you have a wrinkle on your face that is produced by muscle movement (frowning or lifting the muscles in your forehead) then the solution is most likely BOTOX®/DYSPORT®/XEOMIN®. If you have a wrinkle or line on your face that is present independently of muscle movement (smile lines from the corners of the nose to corners of the mouth) then the appropriate solution would be a dermal filler treatment.
A treatment plan can be developed specifically for your concerns during a consultation. To learn more about how dermal fillers can restore youthful appearance to your face, contact BNG Aesthetics today to schedule a free consultation.
Laser Skin Resurfacing
If aging and too much sun exposure have left your face with wrinkles, scars, brown spots and uneven pigmentation, laser skin resurfacing can help your skin look younger and healthier.
Resurfacing laser therapy sometimes referred to as a "laser peel," uses laser light to precisely remove the outer layers of skin revealing healthier looking skin beneath. When combined with Botox® Cosmetic or dermal fillers spectacular results can be achieved.
At BNG Aesthetics we offer several varieties of skin resurfacing:
Ideal candidates for laser resurfacing treatment include patients with fine lines or wrinkles around the eyes, forehead, or mouth or aging and sun-damaged skin. Please contact us today to see if laser skin resurfacing treatment is right for you.
ThermiSmooth
At BNG Aesthetics we offer a wide spectrum of cosmetic solutions to reverse the signed of aging. ThermiSmooth™ is one of the techniques from the new ThermiRF™ system that gravitates towards those solutions to deliver real results without surgery.
Using targeted radiofrequency energy, ThermiSmooth™gently heats up the skin of the problem areas around the eyes, mouth, cheeks or neck. The ThermiRF™ technology is unique in its ability to automatically sense and adjust energy output to the targeted temperature, ensuring that patients are receiving the best and most effective treatment possible. The result is a very comfortable treatment session that, for most people, feels similar to a warm massage.
ThermiSmooth™ is a non-invasive skin tightening procedure that can be used on the face, neck, and jaw lines of patients. Treatment is performed by moving a small hand- held device in a circular motion over the treatment zone. It works by stimulating the natural production of collagen beneath the skin. When skin is heated to temperatures above 41°C, a process is initiated in which the skin begins to tighten and new collagen is produced.
Treatments are typically repeated several times to achieve the desire cosmetic results. After a simple and quick treatment, patients can enjoy a face that is supported, tight, and healthy looking!
Schedule Your Appointment Today!
For more information or to schedule your appointment please call (570) 354-0420.
---
OUR LOCATION